Grace News
SUMMER WORSHIP SCHEDULE
We return to one service at 10 AM starting May 28!
YOUTH SUNDAY & NOISY OFFERING
Join us on Sunday, June 4 to celebrate Holy Trinity Sunday and Youth Sunday, and bring your spare change, which will go to the Synod Assembly to fight hunger.
CHURCH PICNIC!
Please join us on Sunday, June 18 after service for our annual Church Picnic! Sign up to bring a side dish (sheet is on posterboard in the Narthex), BBQ will be provided. We will also kick off VBS week. See you then!
VACATION BIBLE SCHOOL
VBS will take place Monday, June 19 through Thursday, June 22 from 4 PM to 6PM at Grace. Sign up in the VBS section below!
Weekly Worship Services
Pentecost Sunday (5/28/2023)
Don't see today's service? Refresh your browser by pressing F5 (Windows) or Cmd+R (Mac).
VBS 2023
Registration is now open for VBS Hero Hotline at Grace Lutheran Church! Join us as we are called to serve God.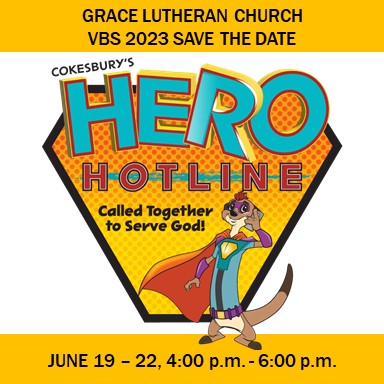 Register for VBS 2023!
Visit the VBS Homepage
Weekly Readings
May 28, 2023 (Pentecost Sunday)
place
Visit Us
2033 Graves Rd, Hockessin, DE 19707
favorite_border
Our Mission
"Growing in Grace: Connecting through worship and service."